May 30, 2007
BE REAL Movie screening with Stand UP Speak OUT
For all event promotion & info, contact: Cathy Mason (360-332-1371);cathy@GirlsNeedGuitars.net
Location for screening: Western Washington University; Frazer Hall 4; 7 p.m.
To contact Dotti or Roby, call 360-305-0909 or email dotti@standUPspeakOUT.com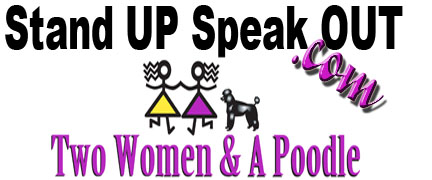 Help us celebrate being home from our
year-long journey, Gay Into Straight America,
as we share poignant stories from the road,
and announce plans for our next
Stand UP Speak OUT project,
The Great American Roadcast.

Our intention is to
Live Authentic...Whatever It Takes
use the Power of ONE to access
the Power of ALL of Us,
and inspire others to join us!
We will host a screening of an inspiring documentary that celebrates
the rich diversity of the lives of gay people in America.
Click here to view the trailer
Date:  Wednesday, May 30, 2007

Time:  7 p.m.
Place:  Western Washington University; Frazer Hall 4 (students will be admitted at no charge with student ID, although they may choose to make a donation at the door.)
Cost:  $15 when purchased up to one week prior to event
Click below to use your credit card and pay via Pay Pal
You will not receive a ticket via mail. 
Your name will be on a list as "paid" through your Pay Pal payment

Cost will be $20 during week of event.  You will then purchase tickets at the door.
(if seats are available)
Producers/Directors Bobbie Birleffi and Beverly Kopf
Producer/Director
Bobbie Birleffi
has worked with some the most respected names in television journalism, including Bill Moyers, Hugh Downs, Robert MacNeil, and Jim Lehrer. Producer/Director
Beverly Kopf
has years of experience working with top talent like Barbara Walters, Meredith Vieria, and Maria Shriver, and was a writer for the Emmy Award-winning program,
The View
.
Life partners as well as business partners, Birleffi and Kopf in 2000 created
TVgals
, a production company responsible for a wide range of quality nonfiction television. They are currently producing a behind-the-scenes DVD and TV special for the much-anticipated musical drama,
Across the Universe
, for Sony Pictures. Directed by Tony Award-winner Julie Taymor, the musical incorporates original performances of many of the Beatles' classic hits, and will be released in November 2006.
Full Credits List
BE REAL CREW 
BE REAL: Stories from Queer America is an inspiring documentary film that celebrates the rich diversity of gay life in America. While each of the six individuals profiled in the film differ greatly in terms of their backgrounds and professional interests, they all qualify as everyday heroes, having struggled to their lives in an authentic, positive way.

In BE REAL, you'll meet Ross Hayduk, who grew up in a Christian fundamentalist community in the South; Mignon Moore, an African-American lesbian and professor of sociology at Columbia University; Oraia Reid, a survivor of sexual abuse who founded Right Rides, an organization that provides safe, late-night transportation to women and transgenders in the New York City area; David Sexton, who overcame serious illness to create a popular musical celebrating the queer life; Tara "Red" Tremmel, a Chicago-based historian who challenges accepted notions of gender identifica-tion and sexuality; Trae Williamson, a Miami businessman whose life of privilege did not protect him from the prejudice and rejection many gays in the business world face. Together they form a mosaic of contemporary gay life that is both entertaining and inspirational.

For Bobbie Birleffi and Beverly Kopf, the producers and directors of BE REAL and themselves life partners, the film was their opportunity to portray gay people as they really are. "We wanted to dig deeper," says Birleffi, "and to show undiscovered differences and surprising similarities among gays and straights." For Stolichnaya Russian Vodka, sponsors of BE REAL, the film represented a means to connect with an important segment of an increasingly diverse population. "The notion of 'being real' is a universal human aspiration," says Stoli Brand Manager Adam Rosen. "We feel that this film presents that message in a way that is both creative and culturally relevant to the GLBT community."  
On the Stoli BE REAL website, they say...
If you know that special someone whose life story embodies what BE REAL is all about, we encourage you to nominate them (or yourself) to be featured in our next BE REAL project. (This will be on LOGO TV).
Please consider clicking here to nominate Two Women & a Poodle, Dotti Berry, Robynne Sapp, and Rylee Joy (put Berry-Sapp as the last name since we are changing our name since we legally married in Canada on November 23, 2006, Thanksgiving Day.) 

You can use this link http://www.youtube.com/watch?v=6WmBMg-JZ40 
to a six minute video (from our PFLAG NW Conference speaking engagement and put together by one of our documentary filmmakers, Kathy Kiefer) to include in your message.  
You can also go to Logo and nominate people there as well. 
For those of you who are not familiar with the initial project of Stand UP Speak OUT, Inc., our  year-long journey
Gay Into Straight America,
began September 11, 2005, and was a commitment to creating authentic connections
 with people who are "wrestling" in some way with their understanding of sexual orientation and gender variance.  Our desire was to engage hearts and minds, create authentic connections, and dissolve differences that separate us as we committed to doing Whatever It Takes to bridge the divide of understanding in our country. 
Click here to read more about our journey
.
Please join us for this important documentary film, as we continue to
Stand UP and Speak OUT
, and encourage others to do the same! May you be inspired to
LIVE AUTHENTIC!
Click here to find out more about our non-profit.
  Please share with your friends and utilize our resources! 
Don't miss our podcasts ...click on link below.  We have interviewed the following people as part of our Stand UP Speak OUT/Great American Roadcast series.  The first six are posted, with the others completed/scheduled and being edited (they will soon be posted).

 

 



 

Donna Rose -

author of

Wrapped in Blue:  A Journey of Discovery;

only transgender person on HRC Board

Peggy Campolo - Evangelical speaker and book editor; Peggy and her husband, Tony Campolo, an evangelical author and speaker, are well known for their talk, "Living with Our Differences - A dialogue on sexual orientation and the Christian Faith" which they have given at numerous churches.



Craig Wilson, columnist for the USA Today; has been with his partner, Jeff, for 23 years.



Haven Herrin

- Co-director of the Soulforce

Equality Rides

. The 2007 Soulforce Equality Ride features two buses that will visit thirty-two schools with policies banning the enrollment of openly LGBT students.

Rev. Dr. Bill Stayton -

former Department Chair for Human Sexuality at Widener University;now Executive Director of the Center for Sexuality and Religion 

Michele Angello - Sexologist (interviewed on Larry King Live for program on TransAmerica). 



Wayne Besen

- author of

Anything But Straight

; one of the Advocate's People of the Year for 2006; founder of

Truth Wins Out

Lesbian couple:
Amy and Elizabeth Eylerpallitier - legally married in MA


Gay couples:
Frank Benedetti and Gary Trowbridge, better known as "Frank & Gary" (together for 42 years)

Dean Genthe, and his partner, Gary -- both previously married to women for 30 years, and with children, they will share how their lives came together.



Transgender couple -
Lauren & Kathryn Bode 



Transgender Woman -


Judy Osborne - Dotti traveled to Thailand with her in 2001 for her GRS (gender reassignment surgery); the only transgender person on the board of

Soulforce

.

Our neighbor - Michelle Willoughby, sharing her initial fears upon discovering in 2004 that a lesbian couple (us) were moving in next door, and the impact on the neighborhood
Live Authentic...Whatever It Takes!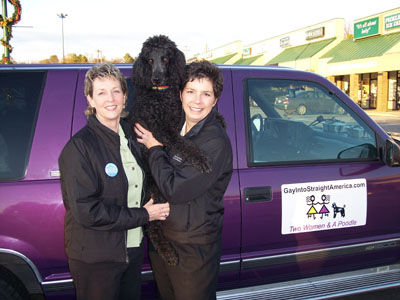 Every journey begins with a bold move, and every bold move is a journey. 
As you continue to make changes in your life and grow toward your highest self, you
are also changing your world, one person at a time, through love, from the inside out.  

     --Two Women & a Poodle, Dotti  Berry, Robynne Sapp & Rylee Joy
<< Back