Live Authentic...Whatever It Takes
Inspiring the Power of ONE in each of us 
  to access and impact the Power in ALL of Us
as we transform ourselves and our world, one person at a time!


You can't hate someone whose story you know.

  The tiniest story in your life can deeply touch another. 
 You cannot know the effect your story might have."--Sark
WELCOME to the quarterly Stand UP Speak OUT newsletter of Two Women & a Poodle. What a busy few months we have had.  Ok, so you may be wondering "Did I miss last quarter's newsletter?"  Great question!  No, you didn't, but we did. We originally wrote a newsletter from Mexico in September (our first real vacation in four years!) and were going to put "warmest regards" to each of you (since it was 95 degrees!), but with dial-up, we weren't able to send our newsletter.  Our "last quarter" newsletter has been "added to and updated," after situations transpired that can only be described as "life happening and computer issues."  Keep reading to discover those events!

In this quarterly newsletter Update:
In the News...don't miss these links to articles (Roby is interviewed in one article with Mary Lou Wallner)
1. Where we've been, Where we are, & Where we are  going!
This time of year provides a great opportunity for reflection. We hope you will consider doing the same.  We realize that beginning with "where we are going," might seem backwards, but we want to share the exciting details about where we are "literally" going! 


Consider joining us for a "Gay Into Straight America" Reunion!!!

 
How? The
r Family Vacations Cruise with PFLAG March 15-22 of 2008 provides the perfect opportunity for all of us to, not only gather and reminisce, but to allow many of you from our journey to meet one another!

 

We spoke to PFLAG groups throughout the country during our year-long journey, as well as at the NW PFLAG Conference.  We networked and did cyber hook-ups, introducing many of you to one another; however, many of you have never met one another in person!  This cruise provides the perfect opportunity!  We recently sent in our proposal for speaking on the cruise, and are looking forward to hearing back from Jody Huckaby, Executive Director of PFLAG national.    And, Rylee Joy will be taking her first cruise!!  As on the journey, she is still wearing her "Two Women & a Poodle" hat, and plans to take it on the cruise to shield her from the sun!

 

Rylee Joy is soooo much like her Mama Rob!  She LOVES hats, and this Gay Into Straight America one is a favorite!
Click on the following links for cruise info:

Please contact Christopher Vance, Director of Development for PFLAG National at 202-467-8180 x231 with your questions and for booking, as he is the contact with r Family Vacations.  Our Cabin Reservation # is c1081, if you want to try and get one in that area! Christopher took the cruise by himself in February of this year (Miami, San Juan, St. John and St. Thomas).  He said he really didn't know what to expect, but reported that he had such a great time, and shares, "I think you'll love it as well!"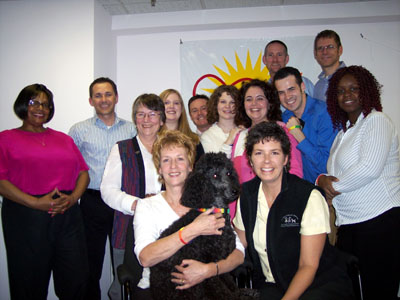 PFLAG National  Staff with Dotti & Roby and PFLAG's new mascot, Rylee Joy (:
during our Gay Into Straight America journey
Less we digress more on "where we are going," let's back up and start with "where we've been."
Where we've been…

This year has been one of "regrouping" after a year on the road, and yet continuing our passion of speaking as we stay committed to engaging hearts and minds, creating authentic connections, and dissolving differences that separate us.

 



Although continuing our former paths (Dotti as a Life & Relationship Coach and diversity/sexuality educator and Roby as a Photographer), our energies these past few months have been focused toward creating another stream of income (real estate investing) that allows us to continue our passion of speaking, educating, and bridging the divide of polarization regarding people's understanding of transgender, bisexual, lesbian and gay people.  Our commitment of helping to empower our own community to live more authentic lives, however, has not wavered…even on vacation in Mexico during September!

 

Click here to read "the rest of the story," as well as others that continue to happen in everyday life. 

 

We wish that each of you could have been with us!

 

After four years without a "regular" vacation to simply Get Away 4 FUN, we did it!

  We experienced ying and yang...with the zip line offering exhiliration and the sounds of the ocean offering relaxation.

 


 


Roby loved the speed!

We were once again fortunate that a friend, who works for the airlines, gifted us with a buddy pass, allowing us to fly at a greatly reduced round trip fare.

 

He even took us to the airport and picked us up when we returned!

  


Our year long journey led us to simplifying our life in many ways, fueling our desire to integrate our living space more fully into one that offers a mind, body, spirit connection. That's what living in a 13 foot trailer for a year will do for you! (:

 

When we returned from Mexico, we literally hit the road running, picking up the keys to our new home that offers that integrated space, bringing the "outside in."

 

Although we view exquisite landscaping through our sunroom, as we listen to the sounds of the stream leading to a pond at the back of our property, most of you know what a move entails! Thank goodness our new home truly offers healing energy and serenity!

 

Click on the following links to see what we mean, and view the beauty of Still Waters Cottage.

Click here to see the inside and outside of our home

: 

This one shows our recent "first snow

."

As we shared in our last newsletter, in order to provide us with both the flexibility and the financial means to pursue our passion of speaking throughout the country, we have been taking numerous courses on real estate investing. We can attest that the hanging on our wall still rings true…"Ancora Imparo…I am Still Learning."

Please check out our website at Harbinger Enterprises

.

 

From lease options (which we utilized with the home we just left) to foreclosures to short sales to wholesale buying to asset protection, we are learning more each day!

In the midst of it all, Speaking opportunities continue!

Following are a few of the engagements that we've had since our last newsletter.   

Dotti presented again at Esprit, the transgender conference in Port Angeles, WA. We spoke and did two screenings of the movie, BE REAL, in Bellingham, WA...we keynoted a "Safe Space" conference...we were grand marshalls of the very first PRIDE Parade in Bellingham...we spoke at Skagit PFLAG in Sedro-Wooley, WA...we spoke at a Unitarian church in Bellvue, WA.


What a difference a year makes! Above was the Saturday night gala dinner and dance last year at Esprit in 2006. Below is our picture from Esprit 2007! 
Wow!  Did our hair grow and change color! (:




From one of the Esprit participants: 

Dotti,

One question, and I apologize up front if this is too personal.  But, in reviewing your website, it was unclear to me if Robynne is a GG or TG.  At Esprit, I thought she was the most beautiful and passable TG there, but it occurs to me now that maybe she was born a woman.  Not that it matters, but I didn't want to mislead Kelly on this point.  Suzanne


(Note: Suzanne is a transgender woman who has a wife named Kelly.  Since Kelly is still coming to terms with Suzanne's T status, she wants to communicate accurately in establishing about GG for "genetic girl" or TG for "transgender girl" status.) 

My reply to Suzanne?

Hi Suzanne,


A humorous sidebar regarding your question

is that this past year when I was presenting at Fantasia Fair

in Provincetown

, Kathryn and Lauren (a couple) invited to treat Roby and me to dinner.  When they picked us up, there were two people in the back.  We wondered if they were a couple.  One was male and one was obviously TG. We later discovered that they weren't a couple and that the TG's spouse would soon be arriving. 

It turned out that the man is

gay.  Anyway, at one point before dinner was served, Lauren and the other two went out for a smoke break.  Lauren came back

,

laughing

to the point of tears

.  She said that the two 

we picked up

were totally confused, not knowing if we were a TG couple (since they didn't know us).  A

ssuming we were probably a TG couple since we were at Fantasia Fair (not knowing that I was there to work with the significant others and couples' groups)

, they were trying to figure out which one of us was TG.  They weren't sure, so they guessed me.  When they told me I said, "Thanks for the compliment, but I'm not!"  So, in answer to your question, Roby was born female. The wonderful part about your honest question is that we now have two special 

TG

stories...one for me and one for Roby.   We will continue to say, "Thanks for the compliment, but I'm not," recognizing first and foremost how special a compliment it is to be considered transgender, even though we cannot claim that status.

So, Suzanne, thanks for your question. 

We will share this in a future newsletter. 

And, just so you will know ... when we speak, we hold up a $100 bill at the end and say, "This goes to the person who asks a question that we refuse to answer."  In a year of speaking around the country through our Gay Into Straight America journey and a year since that time, we have not lost the $100 yet! (:

  All sincere questions are valid ones!

Take care ... I am sure our paths will cross again!  Dotti

  

 



Bellingham Pride Parade -- Two Women & a Poodle were
Grand Marshalls!


Rylee Joy at Bellingham Pride Parade


Two Women & a Poodle with
Skagit PFLAG group
in Sedro-Wooley, WA





Group pic after speaking at
Unitarian church in Bellvue, WA

Where we are now…



We are in the space of figuring out "how to carve out time to write and finish our book and documentary," while continuing to create income, as well as planning for our 2008 journey,

Talk with America...The Great American Roadcast

. 

 

If anyone knows of any grants for which we can apply, please let us know!

 

Or, if funding this opportunity for us would fuel your passion, please let us know!

  

There are many organizations out there that concentrate on pointing out the effects of the actions of people who are considered "adversaries" or anti-gay organizations.

 

Our focus is to not only to be a bridge between people, but MORE IMPORTANTLY, to inspire our community of transgender, bisexual, lesbian and gay persons, in addition to allies, to tap into our empowered state through living authentic lives.

 

This focus concentrates on our own transformation, and the space it creates for others to grow into.

Dotti is also on the planning committee with Soulforce for the non-violent action at the United Methodist Conference. Having been denied membership in a UM church in Lexington, KY in 1999, Dotti was asked to be part of the planning.

 

We will be at that conference at the end of April.

To keep our message of transformation and authentic connection alive, Stand UP Speak OUT needs your help.

 

Please consider a generous tax-deductible end of the year gift that will allow us to continue speaking and inspiring our own community to live more authentically.

 

Our own empowerment provides the best opportunity for eradicating the misinformation about us.

In our recent endeavors, we have looked at various opportunities to bring in a stream of income for supporting our passion of transforming ourselves and others, one day at a time and one person at a time.

Following are three opportunities which will benefit you directly, and yet also benefit Stand UP Speak OUT, and support the Talk with America...The Great American Roadcast in 2008! Please check them out!

 The first is a traditional "donation" with a tax deduction.  The other two grant you a specific benefit that is unique and also benefits Stand UP Speak OUT!



1) Click here to make your "end of the year" donation!


2) Interested in paying off your "traditional 30 year mortgage" in 1/3-1/2 the time?Click here to watch a 15 minute video about the Money Merge Account

 



Afterwards, visit our website and get a free analysis on how this program can help you! 

3)

Love to travel?

 

We do! (: This may be just the "ticket" for you.

 

We are happy to chat with you about the details, but first go to

GetAway4Fun

and check it out.

 

We are excited about this new opportunity for unlimited travel at a price way below retail…in fact, you can save up to 75% off four and five star accommodations in over 60 countries!

 



When you visit

GetAway4Fun

, just put in your email to sign up for the information about the program, and it will be delivered directly to your email box.
Where we are going…



You have already read about r Family Vacations with PFLAG in March.
We also told you about us going to the United Methodist Conference at the end of April.

On May 9, we will present a workshop entitled Empowering the LGBTQA Community for the Future at the "Saying It Out Loud" conference in Seattle, WA.

We will embark on our next Stand UP Speak OUT journey, The Great American Roadcast, in September, 2008, just months before the elections.

 

Click here to discover ways you can be a part of supporting this adventure as Two Women & a Poodle Talk with America.  It will be fun as we visit cities who are part of the National League of Cities' program, "Building an Inclusive America."

 

We want to ask them, "What does being inclusive mean?

 

Does being inclusive include "us"?

 



On June 13, 2007, we received the following email from Jim Hunt, the Immediate Past President of the National League of Cities.  

Just read your latest update.  The Inclusive Communities Partnership now has over 170 cities with over 17 million citizens of population.  It is needed more than ever.

Keep up your great work.
Wishing you an Amazing Day!!!

Jim Hunt, Speaker and Consultant

After Jim's term as president, he created an organization, Amazing Cities, working for excellence in local governments. If you missed the podcast we did with Jim, click on the link.  Jim offers enormous insight about how the "Building inclusive community" program began and what it intends to do.
2. IN THE NEWS
Click here for "must read" links to great stories that are affecting the lives of all of us!  Profiles on Mary Lou Wallner in People Magazine (she introduced us), Rev. Bernie Turner (he married us), and others.  Roby's interview was supposed to have been a sidebar to the article in PEOPLE, but space got cut.  Click here for Mary Lou's interview in the Arkansas Democrat-Gazzette, which included Roby's interview. 
Wonderful friends and allies, Mary Lou and Bob Wallner, who introduced us!
They lost their lesbian daughter, Anna, to suicide. 
Visit their website Teach Ministries.
Mary Lou's story in PEOPLE magazine led to many people contacting her.  One young woman, Jessica Collier, lives in Kentucky.  With my past connection with Kentucky, Mary Lou connected us.  Jessica is an amazing young woman attending the University of Kentucky.  I admire Jessica and her partner, Natalie, as they forge a relationship based on living authentically, despite the lack of support from Jessica's family for understanding how to celebrate who she is.  Coming from a Southern Baptist background, the journey continues with both herself and her family. 


(L-R) Natalie Smith & Jessica Collier
Jessica was born and raised in Pikeville, Kentucky, and her parents and grandparents still live there. (Dotti's mother grew up close by in Corbin, KY and her Aunt Dot & Uncle Bill still live there).  Jessica and her family are members of First Baptist Church, where her father is a lay pastor as well as Chairman of the Deacons.  He preaches when the pastor, Paul Badgett, is out of town.  Rev. Badgett was the president of the Southern Baptist convention last year.
After exchanging some emails, Jessica wrote and said,
"In only two short e-mails, dotti, you have opened my eyes in so many ways. I want to be a strong individual and know who I am. I appreciate you writing back to me."  Jessica has decided to apply to be a Soulforce Equality Rider for 2008!

It is people like these two women who keep us committed to standing up and speaking out!  Our intention is for each of us to empower one another, passing on the light to others.
In the links sections, there's also info about the amazing documentary, For the Bible Tells Me So, produced by our friend, Dan Karslake.  Below is a pic we took in New York with Dan last February.  You can now pre-order your own copy of the documentary (available in February!)
May 2008 be a joyful adventure into a more authentic YOU!
We will end this newsletter as we always do ...

The light in us honors the light in each of you!  Dotti & Roby
Live Authentic...Whatever It Takes!


Every journey begins with a bold move, and every bold move is a journey. 
As we continue to make changes in our lives and grow toward our highest selves,
we are transforming the world through love, one person at a time.  
     --Two Women & a Poodle, Dotti  Berry, Robynne Sapp & Rylee Joy